I have been working on a HUGE knitting design project lately.  I mean SUPER HUGE!  Well, at least it feels huge to me.  It all started with a custom sock order that I designed for a friend about a year ago.  She wanted some really tall, over the knee socks to wear with her boots.  They were so much fun to make because she gave me license to do whatever I wanted with them, as far as design.  They just had to be off-white and, you know, fit her well.  I also know that she has a kitty cat that she loves to the moon and back, so cat's paw lace seemed just right.
I worked up said socks.  They were gorgeous and she really loved them (yay), but when I started thinking about writing out the pattern, I realized that the way the lace repeat worked for that particular design, the beginning of the round shifted about every 3rd or 4th round, or something.  It was kind of obnoxious and I realized that I wouldn't even want to knit these too many times, so I set about trying something a little bit different.
Sock idea #2 was knitted up in a finer yarn with three columns of alternating paw prints instead of the allover pattern.  I just didn't like it, though.  It seemed stiff and uncatlike.  The paw prints were too regular and even.
Sock idea #3 seemed to have merit for a while. I think I finally decided that it still looked too straight. I wanted it to look more like a cat had actually left its paw prints all over you.
I won't bore you with all of the details.  It went through a lot of changes.  I kept ripping it out and reworking it.  Finally, though, I ended up with a great design that has paw prints starting at the top of the foot, wrapping around the outside of the ankle and then meandering up the back of the leg!  But then, I had another brilliant idea.  Wouldn't it be cool to knit these up in actual cat colored yarns?  I started contacting indie yarn dyers.
They didn't all immediately want to jump on board, but you only need one, right?  Dawn of Chasing Rabbits Fiber Co. on Etsy was willing to work up some samples for me and she did the most amazing job of perfectly capturing the feel of the colorways.  She created a grey tabby, a ginger cat and a calico cat in fingering weight yarn just for my project.  You've got to see this.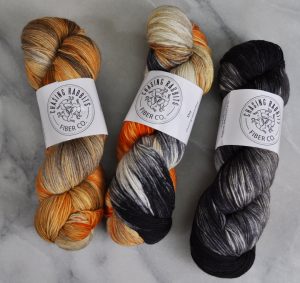 So while Dawn was working on these gorgeous yarns, I was talking with Lynne of Sunshine and Bubblegum on Etsy, who makes some really lovely knitting (or crocheting) project bags.  She has such a knack for choosing the perfect prints to coordinate for her bags and she found the most perfect fabrics for this project.  Again, you just have to see this!  We put together a kit including the printed pattern in two foot sizes and two different sock heights with color coded charts and everything, your choice of one skein or two (depending on the height you want to make), your choice of kitty cat color yarn and a fabulous handmade project bag!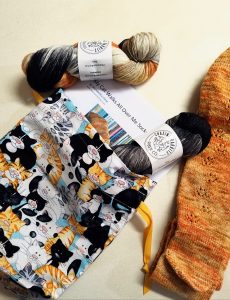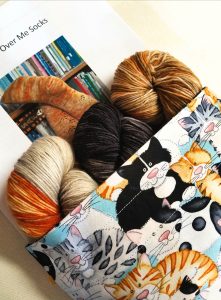 If you would like more information, we posted an announcement in my latest podcast.
Lynne and I are both taking preorders for the kits through our Etsy shops until Jan 22 and the kits will be shipped out in early February.  Time is running out, so don't wait.  We want to be able to ship these out as quickly as possible so that you can get to knitting your socks!  Order right HERE.