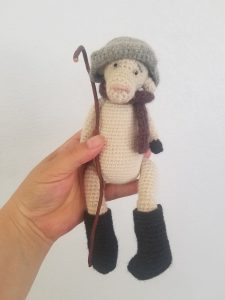 Hey, guys! I hope you're enjoying my podcast.  It is proving to be quite an adventure, as we transition from Summer to Fall and into the school routine.  I am planning some big things for this year, not the least of which is the Sneaky Gift KAL that I am hosting.  You can get all of the details on the podcast or in the podcast group on Ravelry, which you will find right here: http://www.ravelry.com/groups/little-woolly-things-podcast
My Etsy shop is also on sale through October 17.  Everything is HALF PRICE!  Coffee, affirmations stones, amigurumis, patterns and all!  Most of my items are one of a kind, so don't wait around.  Once an item is sold, it will be gone.
I hope to see you on the podcast!  https://youtu.be/VL_z_iPsXas
Check it out, like and subscribe!
Here are the show notes for Episode 5:
Etsy shop news: Everything in my Etsy shop www.littlewoollythings.etsy.com is on sale 50% off through October 17!
Today's coffee: A 60/40 blend of Papua New Guinea peaberry and Bali Kintamani beans.
Podcast love: The Girls in the Yarn Cafe. Christy, who is @yarn_cafe_creations on Instagram and Trysten who is @dragon_hoard_yarn on Instagram.
WIPs: On the Spice Market Shawl by Melanie Berg. If you have any yarn suggestions for me to use instead of the handspun yarn that I am running out of, please comment and let me know!
Think of Me shawl – I am finishing up this pattern and will be looking for test knitters soon. Let me know if you are a lover of lace shawls, you can finish on a deadline and you are interested in test knitting. Photos will be required.
FOs: Hermione's Everyday Socks by Erica Lueder in Paton's Stretch Socks.
Seagrass Socks by Melissa Morgan-Oakes from the book: Toe-Up 2-at-a-Time Socks in
Classic Elite Yarns Summer Sox Variegated
Autumn Pumpkin Trio, which is a brand new pattern in my Ravelry store. http://www.ravelry.com/patterns/library/autumn-pumpkin-trio Worked in Knit Picks Palette
Sneaky Gift KAL update:
Prizes will be given periodically from the KAL chatter thread on Ravelry. The podcast group is here: http://www.ravelry.com/groups/little-woolly-things-podcast
You must be a member of the group to participate in the KAL and win prizes. There will be a grand prize winner chosen at the end of the KAL from the FO thread. KAL runs from September 1 2017 to January 1 2018.
If you would like to donate a prize for the kal, please message me on ravelry. Donations are more than welcome!
You can find me on Facebook, Twitter, Pinterest and Etsy as Little Woolly Things and on Instagram as Wendelika Cline.
My patterns are available at www.knitpicks.com, in my Ravelry store at www.ravelry.com/stores/little-woolly-things and in my Etsy shop at www.littlewoollythings.etsy.com
Follow my blog at www.littlewoollythings.com
Thank you so much for watching and don't forget to hit the like button and subscribe!