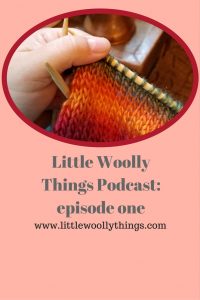 Well, I did it!  Episode number one of the Little Woolly Things podcast is uploading to YouTube as I type.  It has been a very long time in coming.  This is actually Take #2 of episode one.  I recorded an entire podcast episode a few weeks ago and then watched myself on camera.  Ugh.  I almost uploaded it just because I had taken the time to record it AND edit it AND create an opening title sequence, but then I decided that I was not and would never be happy with the quality of that recording, so I saved it to my external hard drive for my own reference (mostly of what not to do) and determined not to show it to anyone else.  Ever.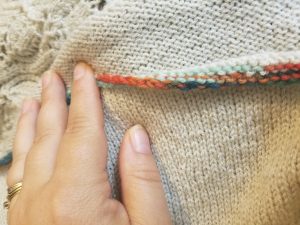 But this podcast episode, the one that I recorded this morning, I am actually excited to share with you.  I stumbled over my words a few times, but that's just me, so I left it in there.  Well, mostly.  Anyway, I am looking forward to sharing some of my knitting thoughts with you, giving you a bit of a sneak peek at some of my upcoming designs and maybe throwing in a giveaway every once in a while.  There *may* have been mention of giving away a small bag of freshly roasted coffee beans in the near future.  Subscribe to my YouTube podcast so you don't miss out!
I also have a couple of knitting tutorial videos on YouTube.  One is a companion tutorial to my Gypsy Caravan Shawl pattern, so if you are working your way through this design, you might want to check it out.  It's right here: https://www.youtube.com/watch?v=CzNhqVSs4SU
And please leave comments.  The whole point of this venture is to make knitting/crocheting/crafting friends, so ask me questions, tell me what you liked in the podcast, share your thoughts.  I'd love to get to know you better.
Here are the photos that I promised to insert into the podcast video and then forgot about: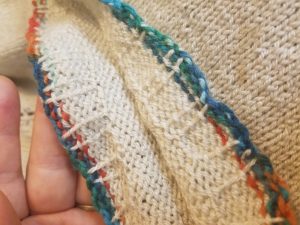 And here are the show notes from podcast episode one:
Little Woolly Things Podcast: Episode 1
Coffee Beans: Mexico Oaxaca, roasted on June 24, 2017 to a Full City + roast.
New Discoveries: KirbyWirby Afterthought Heel

Podcasts mentioned: Relatively Crafty  and  Sunshine and Bubblegum
KAL group: Slow A$$ Knitters Club on Ravelry
WIPS: Blake's cardigan in Knit Picks Felici Cheer
Grey/Black shawl (still needs a design name) in Knit Picks Stroll Tonal Train Station and City Tweed Tahitian Pearl
FOs: Summer Top (also still in need of a design name)
Books mentioned: Baby Knits by Debbie Bliss
Warm Days, Cool Knits by Corrina Ferguson
Gypsy Caravan Shawl was published in March, 2017 (Not as long ago as I thought)
You can find me on Facebook, Twitter, Pinterest and Etsy as Little Woolly Things and on Instagram as Wendelika Cline.
My patterns are available at www.knitpicks.com, in my Ravelry store at www.ravelry.com/stores/little-woolly-things and in my Etsy shop at www.littlewoollythings.etsy.com.
Follow my blog at www.littlewoollythings.com